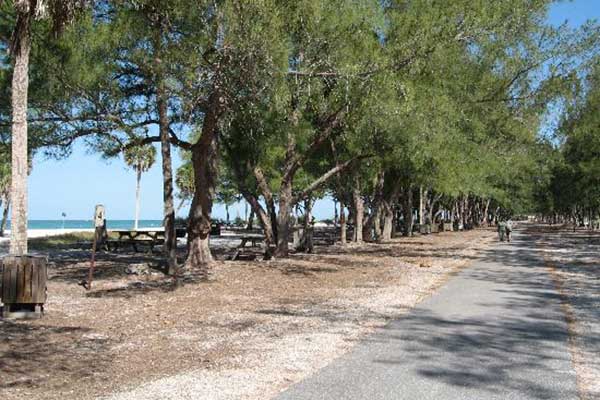 2651 Gulf Dr., Bradenton Beach, FL 34217
Phone: 941-742-5923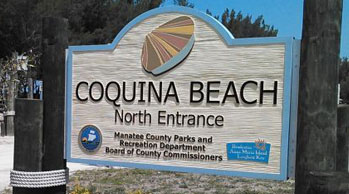 Coquina Beach is at the southern end of Anna Maria Island, in the city of Bradenton Beach. The Gulfside Park is just a short trolley ride away from Anna Maria Island, It still looks pretty much the way it did 40 years ago. There are lots of picnic tables and pavilions under the Australian pines, the beach can get a bit rocky, good for snorkeling, and shelling. Amenities include: Grills, Playgrounds, Rest rooms, and outside shower. Bike Racks, benches, concessions, and volleyball pits. Open 6am-midnight, Free admission.
Coquina Bay Walk
Explore Leffis Key on a series of trails and boardwalks through mangrove tunnels on the Coquina Baywalk. A unspoiled sliver between the Gulf of Mexico and Sarasota Bay, Leffis Key sits between Bradenton Beach and Longboat Key. Although the entire trail system is less than a mile, it's fun to explore. The trails offer great views of the bay from observation decks hidden away in the mangroves—you feel like you're peeking out of tunnels! Climb to the top of the spoil piles for a sweeping view of the bay and ocean. Leffis Key is 3.2 miles south of the Anna Maria Causeway on East Bay Drive, just south of Bradenton Beach. The park entrance is on the left, across from the beach. After you walk across the broad entrance boardwalk, you have your choice of directions to take. Head left to check out the boardwalks through mangrove tunnels, with overlooks on the bay. Turn right to walk out to a crystal-clear cove where interpretive signs point out the sea squirts and sponges. In the center of the island, a tall spoil pile provides a sweeping view of the sea, the bay, and the northern rim of Longboat Key.
Take the kids, take your dog, and take a break from the beach to enjoy this little gem.