Anna Maria Island & Sarasota Trolley Schedule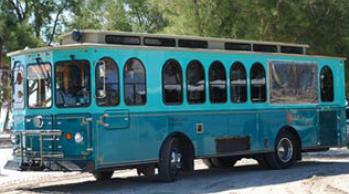 Anna Maria Island has a free Trolley Service that travels daily up and down the island
Anna Maria Island has a free Trolley Service that travels daily up and down the island between Anna Maria Island and Coquina Beach, from 6AM- 10:30PM, about every 20 minutes.
It is a cool ride on a hot day. About every 2-4 blocks there is a Trolley Stop, most have covered seating while you wait.
Check the Trolley Schedule for Anna Maria Island and neighboring beaches.
You can get on the Long Boat Key Trolley and for 1.50, ride it all the way down to Sarasota. Great way to see the coast if you do not have a personal car to use.
• Anna Maria Island Trolley Schedule
• Long Boat Key Trolley Schedule
• Beach Express Trolley Schedule
The information is supplied by the Manatee County Government, and is subject to change without notice. For the most up-to-date information, please visit their website.